SOLD OUT: A Wicked Winter's Kiss is a seasonal release and will be back in the shop Nov 1, 2023. Sign up to be notified when it returns.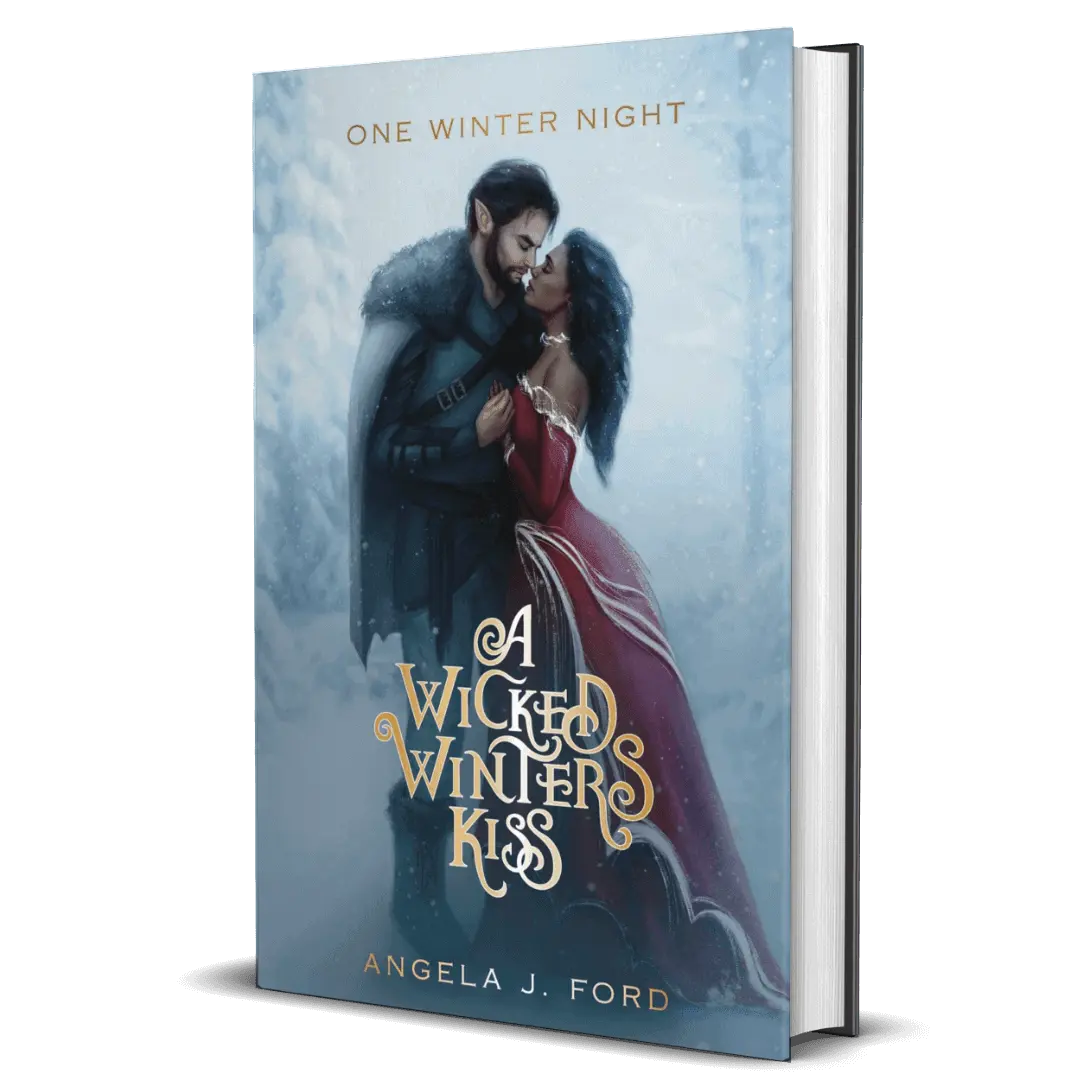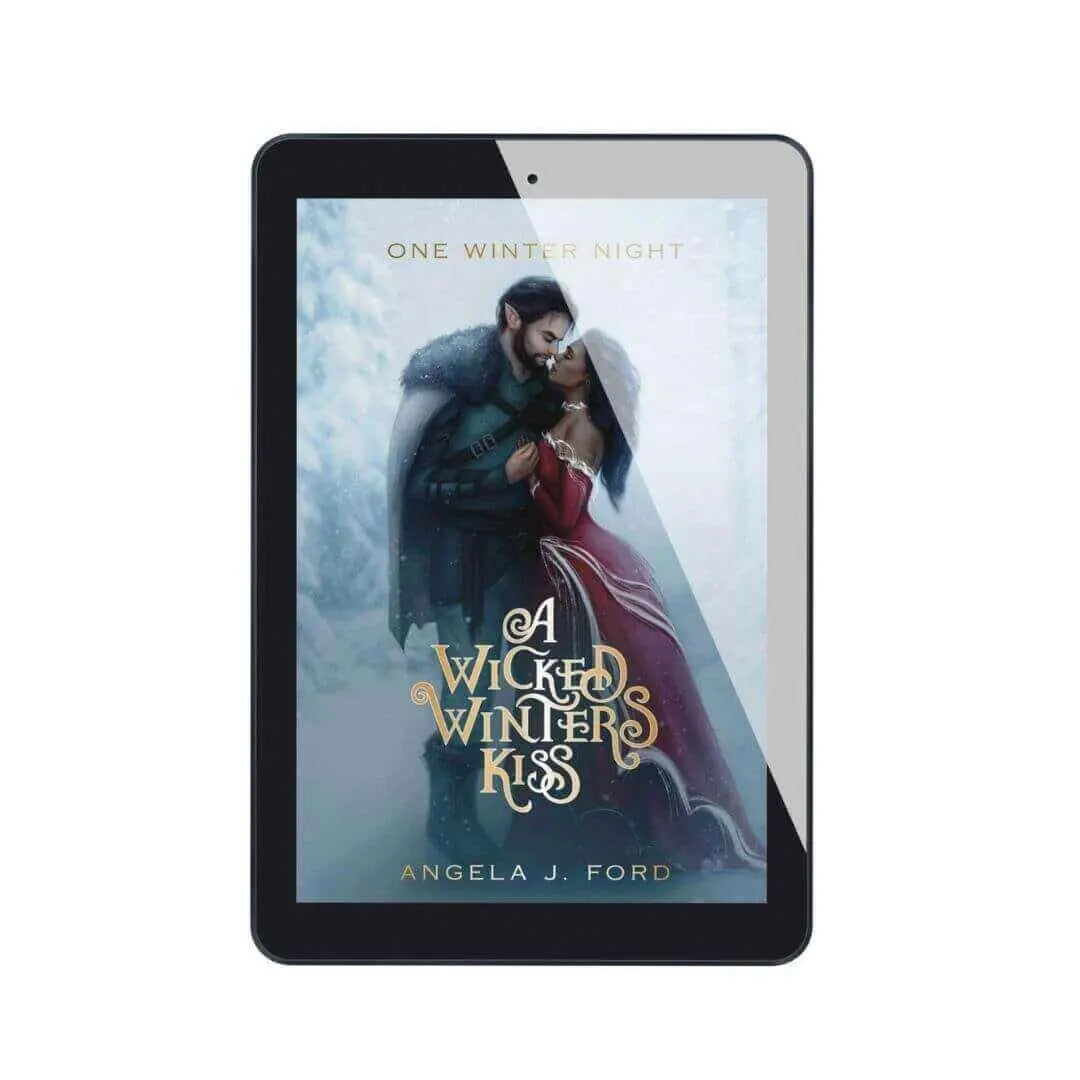 Orders are processed & shipped in 3-5 business days.
Description

A swoony holiday romance between a young woman who lost her way and a handsome woodsman with a hidden identity.

The only life Natari knows is one of dark deeds. As a pilot she uses her airship to smuggle illegal goods across the known world.

What she truly desires is freedom from her shady employer. When she's caught double-dealing, her airship is sabotaged, and she crashes in a frozen tundra.

With her cargo destroyed and her ship severely damaged, her only hope of survival is the help of a deliciously handsome woodsman: Eldon.

Eldon is surprisingly tender and intensely romantic, spoiling her with delectable desserts, cozy fireside evenings, adventures in the snow and fervent kisses.

Despite her visceral attraction to Eldon, Natari can't shake the suspicion there's more to him than meets the eye. Believing he's too good to be true, she determines to discover his secret while rebuilding her airship.

But something wicked lurks in the wood, a growing evil seeking to ruin winter's magic. As revelations bring clarity, Natari must make a choice. Will she stay and fight or flee back to the world she knows?

A Wicked Winter's Kiss is a fairytale of new love and winter magic, set in an industrial-era inspired fantasy world with steampunk flair. Prepare to be swept away to a winter wonderland where dreams come true, magic is real, and the key to unlocking any cold heart is love.
Your Order Includes

EBOOK
+ the ebook will be delivered to your email address on Dec 6

PAPERBACK OR HARDCOVER
+ Signed Book
+ 1 Art Print
+ 1 Bookmark

PRINT PACK
+ 4 art prints
+ 1 bookmark
+ 3 page overlays
+ 1 sticker
+ 3 recipe cards

BOOK BOX
+ Signed Hardcover
+ 2 Art Prints
+ 1 bookmark
+ 1 page overlay
+ Sticker
+ Wood wick candle

DELUXE BOOK BOX
+ Signed Hardcover
+ 4 Art Prints
+ 1 bookmark
+ 3 page overlays
+ Sticker
+ Wood wick candle
+ 3 recipe cards
+ 1 notepad
Tropes

Forced proximity
Snowed in
Only one bed
Cinnamon roll
Sexy elf vibes
Content Rating

8. Romance with more intense content (multiple sex scenes with explicit descriptions)
Preview the Book

The airship groaned, then tilted. Excited barks came again, followed by a stream of light.

A spray of something white dusted the opening, and a head poked in.


I took a breath and forgot to let it out. 


This was no monster, but a man, a big one from the size of his head and shoulders.


He had pale skin, tanned from sunlight but still nowhere near as dark as my rich brown skin.
Longish black hair was swept back from his forehead, and a short, trim beard covered his chin, short enough to display the line of his well-formed jaw.


I followed the curve of his mouth up to his straight nose and deep-set, liquid brown eyes, alight with curiosity.


Something twisted inside me when I caught sight of his pointed ears.
---